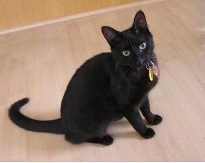 I am having A LOT of trouble getting out of bed this week so far. I mean, I always have a bitch of a time in the mornings, but it's even worse this week, because I don't like what I'm doing here at work.
For some reason, I always think about those who are gone in the morning and upset myself. Sometimes, I even talk to the dead and catch them up on things. [Thank God, they do NOT answer back. I'm not crazy, motherfuckers, just warped.] This morning, of course, I started to cry about PEARL!. I don't for one minute think that the Moons made the wrong decision. They ABSOLUTELY did the right thing, but old age and death just hits me hard in the morning, maybe because I sit there and feel sorry for myself.
I sat at my little breakfast table by the window this morning and looked out on YET ANOTHER rainy damn day here in Ohio (we've had about two fully sunny days in the past month or maybe longer), and it's really starting to get to me. I have been diagnosed with SAD anyway. My depression is very linked to lack of sunlight. I am struggling.
Anyhoo, I sat and sipped my wonderful Starbucks French Roast coffee and decided to crack the window in order to try and bribe Puppine (my favorite cat) to come and sit with me. It worked almost immediately, and Puppine jumped up on the table and stuck her tiny black head under the window, sniffing at the fresh morning air. Actually, the plan worked too damn well, and two of my other cats jumped up on either side of Puppine. Then, tiny Puppine (she is the smallest and FIERCEST of the lot) began growling and slapping the bitches on either side of her. IT WAS SO GREAT! Laugh. She took out the biggest cat I have. She slapped that motherfucker down off the table! I love when a tiny bitch has attitude like that. It cheered me up immensely. [Sometimes, Puppine even growls and slaps at me. CAN I TELL YOU HOW THRILLING THAT IS? Well it is, so fuck you. You don't know until you've experienced it.]
Not to sound like a damn cat lady, but I don't know what I'd do in the mornings without my cats. They give me something to focus on besides the depression.
What cheers you up when you are down or suicidal?